How to quickly create an eye-catching animated banner to make your TpT store sparkle
Have you seen them? The animation's used in some people's stores?
Do you want to know how to create your own?
Well, howdy you're in the right place. Read all about how I create mine.
If you don't yet have your branding in place then make sure you take part in my FREE course "Creating your standout Brand" which you can access from here:
https://trccources.thinkific.com/courses/creating-your-standout-brand
Why use an animated banner?
Using an animated banner can draw the reader's eye and persuade them to take action such as follow you, view a resource, download a freebie etc.
There are 3 potential banners you could have in your Teachers Pay Teachers store and I strongly recommend you use all three. After all, there is no point in missing a marketing opportunity is there?
It is up to you if you want these banners animated or not. You may just want a static image, and that is perfectly ok.
I find the animated banners, as long as they are done well, work really well for me.
However, if you find that it is too distracting after you have uploaded them, you may want to make one or two of them static images and just leave one animated banner.
The main banner is at the top of the page and if you are going to have any of them animated then this is the one I think works best.
As with all my banners, I create them using Canva. I do have the Pro version of Canva so some of what I will show you is only available with the Pro account but you can still create really good animated banners using just the free version if you wish.
The top banner
The banner at the top of the page is the first thing most people see on your store and so it is worth taking the time to get this right. It should strongly reinforce your brandings so make sure you are using the right colours, fonts and include your logo.
Here is the banner I presently use in its full animated glory.
And here it is being created in Canva...
Creating the banner
The image size for this top banner is 452 x 157 pixels.
As you can see, I create a new page for each section of my animation. I use my logo and branding strongly throughout along with some other areas that will catch the eye such as a GIPHY meme, animated text, animated artwork and animated arrows.
You want this first banner to be eye-catching but still be easy to understand.
I switch between two messages, the first one is a call to action to download the free resource with an arrow pointing to the location of where they can find the freebie. The second message is another call to action to get them to follow me. I can make my banner's clickable so that when they click on the banner, they automatically start following me or takes them to one of my resources. I'll show you how to do this later when we upload it to my store.
As you can see, I make sure my text is large and easy to read. The actual size of the banner isn't huge so you need to keep it clear and avoid cluttering the area as that doesn't look attractive.
Each page is timed to stay on the screen for 10 seconds and I find this works well. Much shorter and people don't have enough time to process what I am saying and take action before the banner moves on and they get distracted with the next message.
To specify the length of time a page stays on the screen, click on the background of the slide and on the bar above the page is a timer. You can click on the timer (here shown as 10.0 seconds) and either use the slider or type in the time you want.
I intersperse these two "call to action" pages with a simple message making it clear what type of resources I create "Computer Science Resources" and to tell them what I do and how I can help them "Helping you take control of your workload".
In the past I have played about with putting small images of my resources on there but to be honest I find these too small to be seen clearly and I feel it just muddies the message. Keep is simple, keep is clean and keep the message clear and positive.
You can click on the preview button (next to the share button) to check your banner looks good before you export it.
Once you have created your banner you can export it.
Click on the share button (next to the preview button) and select Download
Change the file type to "GIF".
And make sure all your pages are selected and then click on "Download".
Uploading the banner
In your TpT store, click on your account button at the top and then select "My Account" from the drop down menu.
Click on "Store Profile"
Scroll down to the bottom of the page and click on the "EDIT" button.
There is a section called "Personal Quote:"
In the first box pick "Image/Link".
Under this is a box where you can type in a quote that will appear. It is a good idea to get any keywords in here that may be searched for such as "computer science" in my case.
Then choose the file and add your animated GIF you have just downloaded.
In the URL box you can add a link to one of your products, one of your custom categories or you can get them to follow you by using the following link:
https://www.teacherspayteachers.com/Sellers-Im-Following/Add/Your-Store-Name
Just make sure you change the "Your-Store-Name" to your personal store name.
Once you have made your changes don't forget to scroll down to the bottom of the page and click on "SAVE"
And that is your first animated banner added.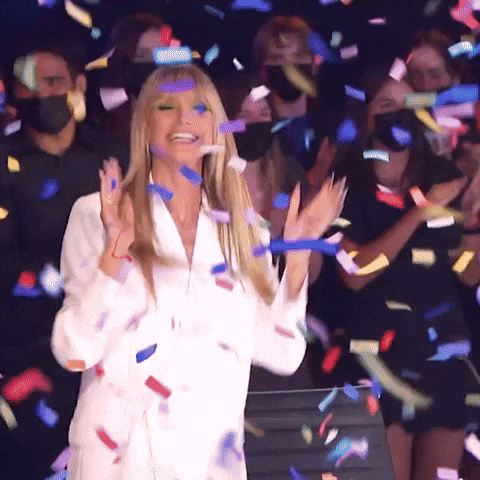 How about the other banners?
These are created in the the same way but are different sizes and upload in a slightly different way.
The long thin banner at the top is called the Store Page Leaderboard and the banner further down your page on the left is known as the Store Page Column Banner.
The Store Page Leaderboard is 706 x 90 pixels.
The Store Page Column Banner in 160 x 200 pixels.
Both of these can be uploaded through your dashboard.
Click on the store image (next to the shopping cart) and select "Dashboard".
Select the "Marketing" tab.
And then click on "Customize".
Here you can upload the animated banners (or still images if you prefer) and add the links to your individual products, customer categories or use that "Follow ME" link I was telling you about earlier.
Make sure you "SAVE" the changes you make and then you can see them in your store.
Go on, give it a go and add a bit of pizzazz to your Teachers Pay Teachers store.
If you would like training on setting up your teacher seller business, have a look at our free and paid for courses here.